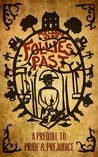 Follies Past: a Prequel to Pride and Prejudice
by
Melanie Kerr
My rating:
4 of 5 stars
"I must now mention a circumstance which I would wish to forget myself, and which no obligation less than the present should induce me to unfold to any human being..."
So begins Mr. Darcy to lay before Elizabeth his faithful narrative of Mr. Wickham's villainy toward his sister, Georgiana. The facts he sets out are brief but potent. They contain a story unto themselves, and that story is the subject of this book.
Taking its facts from Austen's own words, Follies Past opens almost a year before the opening of Pride and Prejudice itself, at Pemberley, at Christmas. Fourteen-year-old Georgiana has just been taken from school and is preparing to transfer to London in the spring. It follows Georgiana to London, to Ramsgate and into the arms of the charming and infamous Mr. Wickham.
I was asked to review this book and I'm so happy I accepted. I really enjoyed this book. It may be a prequel but you have to read it after you read Pride and Prejudice if you don't want P&P spoilers (at least that's my opinion).
We meet or hear about a number of characters from P&P (Jane, Elizabeth and the rest of their family) and see sides of characters we don't get in P&P (like Anne
de Bourgh). We also met a few new characters including a dear friend of Georgiana's Clare. Clare accompanies Georgiana to London and like any good friend tries to stop her friend from making wrong choices.
View all my reviews